Wham!'s Version
Last Christmas features George Michael and Andrew Ridgeley accompanying girlfriends to see friends at their home in an unspecified ski resort, although the cable-car that can be seen in two shots is from Saas-Fee, Switzerland. It became clear early on, however, that Andrew's girlfriend had previously been in a relationship with George, and it was to her character the song was aimed. The video also featured the duo's backing singers Pepsi and Shirlie and Spandau Ballet bassist Martin Kemp, the boyfriend and future husband of Shirlie Holliman as well as model Kathy Hill.
Whigfield's Version
Last Christmas features Whigfield singing the song in a winter setting. Towards the end, people start dancing around her.
Rap Allstars' Version
Last Christmas features the group performing the song around a building interspersed with scenes of couples spending time together.
Crazy Frog's Version
Last Christmas features Crazy Frog entering a cabin where he finds Santa locked up and Frog tries to rescue him.
Cascada's Version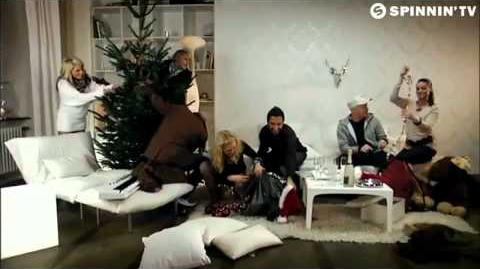 Last Christmas features Cascada singing the song in a studio interspersed with scenes of her and her friends celebrating Christmas together.
Alcazar's Version
Last Christmas features the pop group celebrating Christmas.
Ad blocker interference detected!
Wikia is a free-to-use site that makes money from advertising. We have a modified experience for viewers using ad blockers

Wikia is not accessible if you've made further modifications. Remove the custom ad blocker rule(s) and the page will load as expected.