Queen's Version
We Are the Champions features the band performing the song before a small crowd of fans.
Robbie Williams with Queen's Version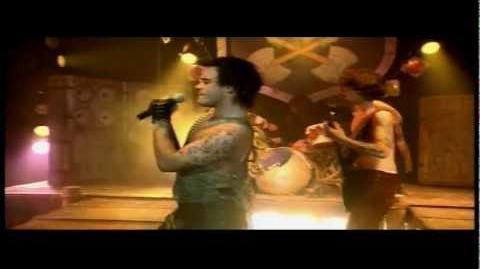 We Are the Champions features Robbie Williams performing the song in a Middle Ages setting interspersed with clips from the movie A Knight's Tale.
Crazy Frog's Version
We Are the Champions features Crazy Frog dreaming that he is competing in a football (soccer) match against Killbots. Having defeated his enemies he finds himself hovering in a football universe and finds hundreds of clones marching toward him. He runs up a tall stairway leading up to a giant gold trophy. As he reaches the top, the trophy turns into a giant football that begins to roll rapidly down toward him. Crazy Frog is crushed and falls with the ball all the way back to the ground, startling him to wake up.
Ad blocker interference detected!
Wikia is a free-to-use site that makes money from advertising. We have a modified experience for viewers using ad blockers

Wikia is not accessible if you've made further modifications. Remove the custom ad blocker rule(s) and the page will load as expected.